The multifamily housing community is always evolving. Now more than ever apartment and condominium residents demand upscale amenities for both common areas and in-unit. With a rapidly growing rental market it's important to set your property apart from the competition. For example, 85% of renters said they wanted access to on-property pool. In this instance, properties without a pool face an uphill battle signing residents. A great way to distinguish yourself from competing properties is to invest in outdoor gathering areas to create a community environment, encourage new renters, and more renewals. Below are some of the top trending outdoor must-haves we've seen in the market this year.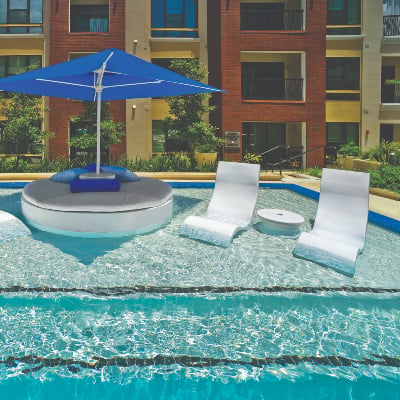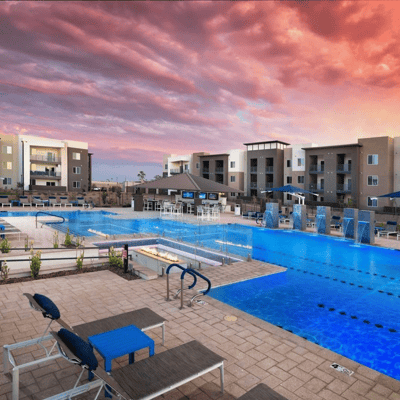 Left image above shown with Vision Sling Relaxed Sling Stack Chaises. Right image above shown with In-Pool Loungers and Island Bed and Side Table.
Poolside Retreats
As mentioned above, in today's market it is a must among renters that their housing development has an onsite pool. Renters are now looking at pool spaces for both exercise and leisure opportunities. Lap pools second as a natural extension of your fitness center while lounging pools are perfect for families to spend the afternoon together without having to leave the property. A complex that has both is optimal, but a great workaround is setting designated hours if you only have one pool. Keep your guests at the pool longer with cool sling seating for sunbathing and covered spaces with deep seating to escape from the heat.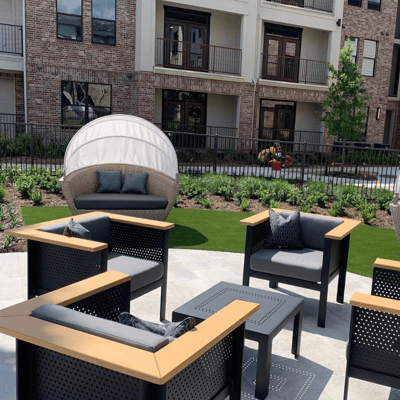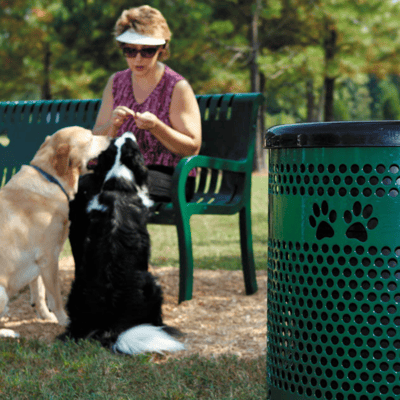 Left image above shown with Vibe Modular Lounge Chairs and Nexus Ultra Lounger with Canopy. Right image above shown with Pooch Perch Bench and Tidy Up Trash Receptacle.
Designated Green Spaces
Due to the COVID-19 outbreak residents are spending additional hours to days without leaving home. This has resulted in various lifestyle changes such as adopting a pet to creating outdoor work stations. Now 67% of all U.S. households own a pet. For multifamily complexes this means your guests need green spaces more than ever – for themselves, and for their new four-legged companions. A property that boasts ample green spaces will attract residents with pets and residents that work from home. A designated green space will also create a sense of peace and tranquility in an otherwise population dense area. These spaces are great for relaxing and unwinding after a long day when outfitted with comfortable seating or outdoor games.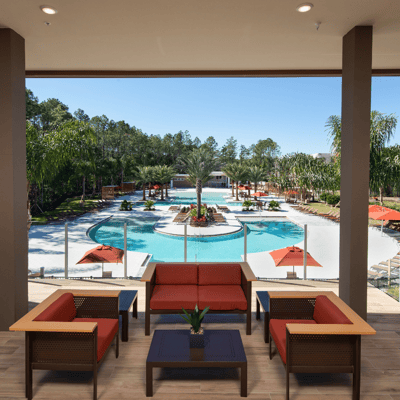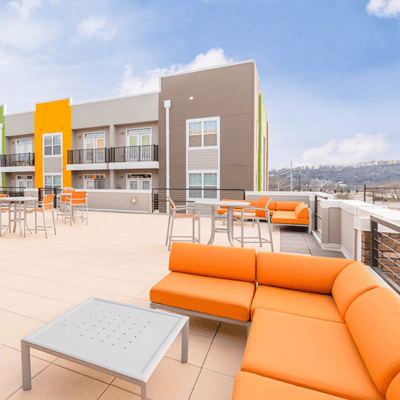 Left image above shown with Vibe Modular Love Seats and Vibe Modular Square Tables. Right image above by Evolve Cos shown with Southern Cay Modular sectionals and Coffee Tables and Vision Sling Relaxed Sling Bar Stools.
Rooftop Patios
A rooftop patio can quickly become the talk of the town if outfitted correctly. Elevated patios or rooftops have an inherent "cool" factor among potential renters. These spaces host the perfect hangout spot for residents and their guests due to their secluded location and elevated views. However, a rooftop that lacks sufficient seating will fall flat and will be sparsely used. Keep your guests enjoying your rooftop space longer by decorating it with comfortable seating and statement fire features. This type of space creates a natural gathering area to enjoy day or night.

Left image above shown with Southern Cay Modular Lounge Chairs and Vision Sling Relaxed Sling Stack Chaises. Right image above shown with Vision Sling Relaxed Sling Bar Stools.
Dining Alfresco
Another element that apartment residents have come to expect is an outdoor kitchen. Long past are the days where a small charcoal grill would suffice. The modern apartment or condo dweller expects upscale outdoor dining amenities such as stainless-steel grills and covered patios for cooking. Create a space that minimizes the back and forth from unit to patio by creating an outdoor kitchen with a designated prep space and lounge and dining seating nearby. These spaces are perfect for celebrating birthdays or holidays onsite with family and friends.
As the supply and demand for affordable rental housing increases it's important to stay competitive. Construction projects are no longer limited to city centers but expanding to more rural areas as well. Due to this construction boom apartment and condominium residents have more options than ever when it comes to affordable housing. To stay competitive in this market we recommend using our tips mentioned above to encourage new residents to move in, and to keep them from renewing for years to come.