For centuries, humans have gathered around fires: think of a home fireplace, outdoor fire pit, or backcountry campfire. It's no wonder that businesses have embraced the latest commercial furniture trend of fire tables. If you own commercial real estate, an outdoor fire pit or fire table is a must-have amenity for outdoor living areas. Read on to discover the benefits of installing a fire table as well as important considerations to know when scheduling installation in your commercial common area.
What are the Benefits of Fire Tables in Commercial Properties?
As multifamily housing development or commercial property owners know, it's important to stay on top of trends that potential renters want. Doing so will help you advertise vacancies, fill them quickly, retain existing tenants, and generally maximize the income of the rental property. One of the biggest trends across real estate in recent years is outdoor living. People want to make the most of the outdoors, be it year-round or seasonally. Shared spaces, from roof decks to backyards, accommodate tenants' interest in outdoor living.
For temperate areas where nights get chilly, fire tables offer a practical way to increase the heat so tenants can enjoy the outdoor living area with friends and family throughout the year. Since they run on natural gas or a propane tank, fire tables reduce the actual risk of fire as compared with a traditional wood fire pit. This means they're safer to use, which is always an important consideration for commercial real estate.
A propane gas fire pit table is a natural centerpiece for entertaining, which is ideal for business tenants, who may need to entertain on-premises. The fire pit table becomes the natural hub for the gathering because it provides the perfect backdrop for a cocktail hour or late-night s'mores party. When the party winds down, clean up could not be easier: most fire tables have an automatic shut-off and some have timers, which can be programmed in advance.
Now that you know the benefits of an outdoor fire pit or fire table, how do you choose the right model for your multifamily housing?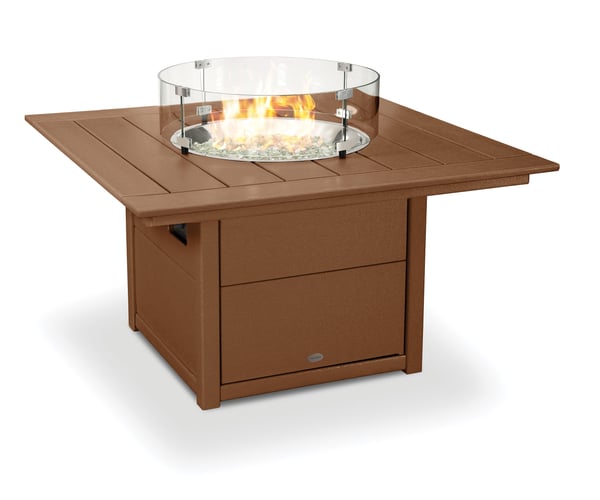 Choosing a Fire Table
With so many options out there it can feel overwhelming to choose a fire table. We recommend thinking about the type of fuel you prefer and the ideal size. Fuel options include propane tank and natural gas.
If you can hook up to existing natural gas lines, then you'll generally want to choose a natural gas fire pit. If you aren't on gas lines, propane with a backup tank is ideal. Natural gas is generally easier and cheaper than fueling with propane; however, if you choose propane, you'll be able to move the fire table because the fuel source is portable. Some fire pits convert between natural gas and propane, which means the fuel choice can be customized upon installation!
Once you've chosen the fuel, think about the size and material you prefer. Fire tables come in a range of styles, so you can choose something that complements the look of your property. Weather-resistant and water-resistant fire tables are a great choice for exposed areas where the fire table will be subject to the elements throughout the year because they'll withstand the elements.
Decide whether the fire pit is purely ornamental or if it is intended to generate heat. For warmth, you will need to look for a greater amount of BTUs. 30,000 BTUs is generally the lowest you will find; this won't put out much heat, but it will look attractive. For a good mix of heating and ornament, we recommend propane fire tables with at least 50,000 BTU.
Fire media, which includes pebbles and fire glass, completes the look of the fire table. Fire media reflect the light emitted by the flames; blue glass beads amplify the pale blue flames and fire, while brown flames or lava chips mimic the look of traditional fireplace coals, just to name a few options.
As you are thinking about the right size fire pit, consider what outdoor furniture will pair well with it. After all, people will naturally want to sit by the fire so it's important to give them comfortable and weatherproof seating! Texacraft lounge chairs are popular and versatile; they come in single and sofa size configurations. For more of a rustic look, Adirondack chairs are a classic pairing.
Pay close attention to the dimensions of any fire tables and outdoor furniture you're considering. You'll want to make sure that the fire pit and chairs are appropriately matched in height for a comfortable fit. Euro Height Fire Tables have a contemporary design and a low height, which pairs with lounge-style furniture. A taller fire table would be an uncomfortable fit with lounge furniture. Again, the only real criteria is to choose what you like and what style blends well with your property.
Design is the fun part, so take your time and think about which combination will add to the ambiance of your outdoor living area while also holding up the routine use from your tenants, plus friends and family.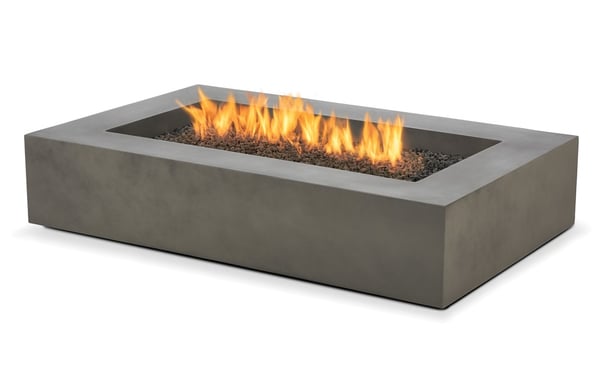 Fire Table Installation
After shipping comes installation, which can be permanent or temporary. Permanent options include connection to natural gas lines or a large propane tank located onsite. For a temporary option, where the fire table can be wheeled around as needed, you'll use a small propane canister similar to that for a BBQ grill. Tank storage is built into the physical product.
A fire table must be installed on a flat surface and never adjacent to anything combustible. If the installation is over a combustible material (a wood deck), you will need a protective barrier. Some municipalities have regulations around fire pits and fire tables, so always check local regulations to be safe.
Fire tables should only be installed in outdoor spaces and never in enclosed spaces. Follow clearance recommendations, which are based upon the BTUs of the unit.
Avoid placing fire tables in areas where seating becomes crowded, as people could overheat from proximity to the flames. Always select an area with good ventilation, and preferably a site that's away from an area where children play. All fire tables have ventilation openings for safety. For safe operation of the fire table, ventilation must be kept open and never covered.
Before and during installation, be gentle with the fire table. Improper handling could damage the new fire table. Installation should be done by a qualified individual; this isn't a DIY task.
Properly installed, a quality fire table will last for years and provided countless hours of entertainment while also increasing the value of your commercial real estate. Browse popular fire tables and outdoor furniture from Texacraft.