If there's one design point that the last year has made abundantly clear, it's that outdoor spaces are among the most valuable and versatile elements of any site—and they're particularly important on higher education campuses. Well-conceived and executed outdoor areas have always been key complements to campus architecture, providing community gathering centers and outdoor expansions to student housing.
Today, an extra emphasis on the health and wellness benefits of outdoor socializing and learning makes it even more essential to elevate outdoor areas with attractive, amenity-rich design. Here's what to consider when planning outdoor community spaces and living areas for student housing.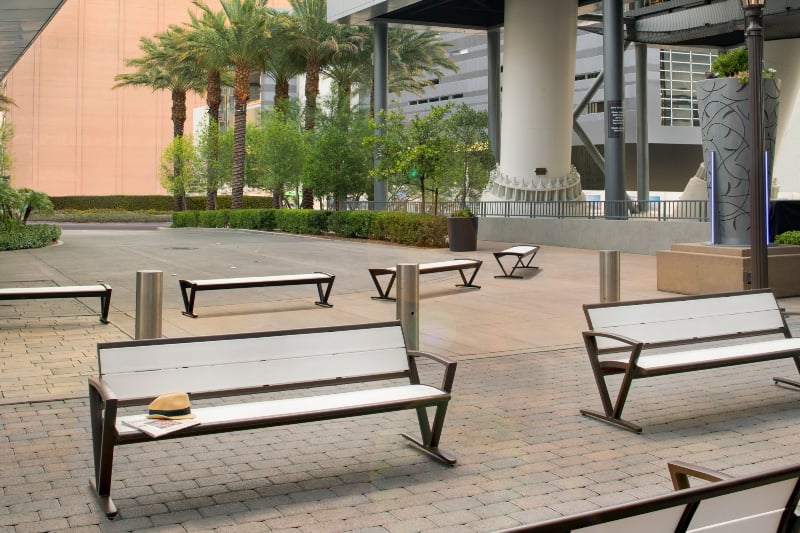 On-Campus Community Spaces
Open-air gathering areas where the campus community can feel connected to each other and to nature are highly desirable parts of today's higher-education campuses. The location of these outdoor oasis's can vary: Some may flow from an indoor gathering center, such as a dining hub, student activity center, or library; others might be self-contained, providing "islands" of respite within the campus landscape. Ideally, campuses should include a mix of both types. For any outdoor gathering or learning space, it's wise to incorporate the following five design guidelines:
Versatility: Take particular care to build in flexibility, so students and faculty can adapt the outdoor space to their own needs. Providing tables in a range of sizes, for example, can help the setting accommodate study groups large and small—as well as a dining couple or a solitary student taking a break between classes. Tables and chairs should be easy to move around as needed to create larger or smaller configurations. If the area will be used for outdoor learning, round tables can promote easy interaction.
Visual Appeal: A mix of colors, materials, and textures can help make outdoor areas feel dynamic and inviting—important for attracting prospective students and campus visitors. Choosing a variety of different sizes and styles of seating, for example—a combination of chaise lounges and lounge chairs for a seating area near an aquatic center, say—can add both visual variety and practicality. Including some occasional height tables can create a more laid-back atmosphere for casual socializing.
Connection to Nature: Emphasizing the natural surroundings will add to the soothing atmosphere of any outdoor gathering center. In addition to trees and plants in immediate surroundings, including a selection of container plantings within the outdoor space itself can add color and texture to the design, creating a more finished effect. Container plants can also play a practical role, delineating the edges of paved area or dividing a large space into smaller sub-spaces. Consider how all the landscaping elements will appeal to the senses: How the wind might sound blowing through tall grasses, for example; how tropical flowers might scent the seating area; how the trickle of a fountain might add a relaxing visual focal point.
Safety and Security: Paving underfoot helps to visually contain the outdoor area and make it safer and easier to move around. A combination of landscaping and furniture elements can help provide a sense of light enclosure and can help students feel safe and protected—or can work to divide a large outdoor area into more manageable outdoor "rooms." Shade from natural elements—a leafy tree, for example—or awnings or umbrellas will make the space more comfortable for its users throughout the day.
Proximity to Amenities: Location is key. Outdoor areas should be near bathrooms and dining facilities, and offer full WiFi coverage and access to electrical outlets for charging devices, if possible. Of course, it's important to include practical accessories such as sturdy and roomy waste receptacles. Providing benches along paths and bike racks near entrances to outdoor areas will help create smooth and convenient transitions to outdoor spaces.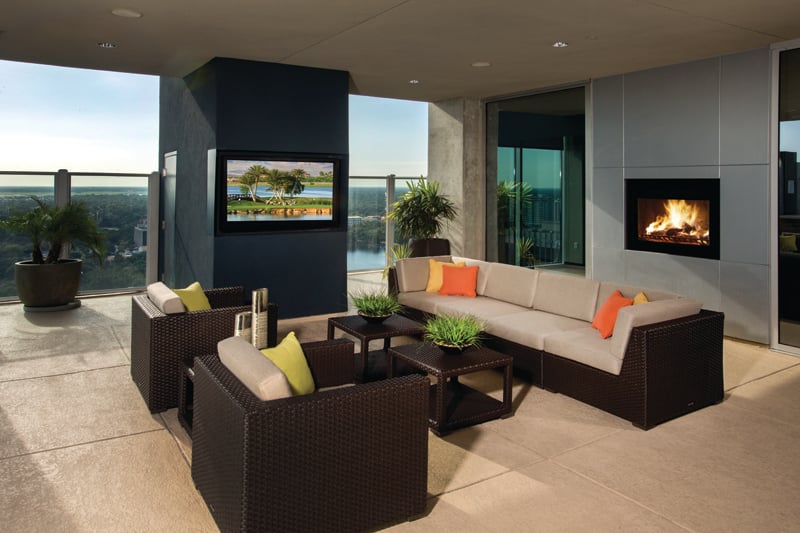 Outdoor Areas Adjacent to Student Housing
Just as a porch, patio, or deck adds extra square footage for relaxing and entertaining at home, outdoor areas on campus can extend student housing hang-out zones beyond the dorm or apartment building's four walls. Providing open-air spaces for students to socialize safely is essential as students return to campus full-time. The design considerations that appeal to any outdoor gathering area apply for outdoor spaces near student housing, with a few slight differences:
Protection and Security: When relaxing near their on-campus "home," it's very important for students to feel safe and secure, so housing-adjacent outdoor areas should ideally be sheltered from the view of passers-by with landscaping or a structural enclosure like a fence or wall. Ample lighting should illuminate both the interior of the space for nighttime use—and the surrounding paths, if applicable, so students can see people approaching from nearby areas. Furnishings can provide a further sense of shelter by providing shade from the sun during the day, or by dividing a large outdoor area into smaller, more intimate sub-spaces.
Versatility: Again, furnishings should be varied—tables sized for groups of different sizes—and easy to move around so students feel in control of their own environment. Modular furnishings are a particularly smart choice: They're easy to expand or rearrange to fit any configuration, and they bring a relaxing indoor aesthetic to outdoor spaces.
Visual Appeal: Since these spaces will mostly be geared for relaxation and fun, the look of the space should reflect that energy, with color and textures chosen to communicate a tranquil, happy attitude. This is a perfect chance to go bold: Look for furnishings with unique, sculptural lines and bold textures—rich woven resin, perhaps—and don't forget to include some focal-point features, like a cabana or daybed for lounging. Keep in mind that the style and perceived quality of student housing can make a lasting impression on prospective students; improving the look and functionality of outdoor areas offers a chance to make a bold impact without a major capital investment.
Proximity to Amenities: Outdoor spaces should flow from indoor gathering areas, with easy access to interior conveniences like the dorm kitchen, storage areas, restrooms, etc. WiFi coverage and plenty of electrical outlets will make studying outside more enjoyable. And don't forget the fun stuff: Create a BBQ zone with outdoor games, picnic tables, and trash receptacles, and outfit the exterior entrance with benches and bike racks.
In today's competitive academic landscape, campus design can be a deciding factor in whether a student chooses one school over another—and then decides to spend four or more years on campus. Amenities that make your campus stand out are more essential than they ever have been. Well-planned, beautifully landscaped, thoughtfully furnished outdoor spaces can give campus and student housing a leg up on the competition—and, most importantly, create a safe, inviting, and fun atmosphere for current and prospective students and staff.