For today's apartment or multi-family resident, it's all about lifestyle. With the outdoors becoming as much a draw for commercial facilities as location or amenities, more common areas are being designed with functionality and furnishings made for enjoyment. Curious to examine what exciting outdoor trends to add to your space? Read on to discover 2020 outdoor living trends.
TREND #1 Modular Mixing
In multi-family outdoor spaces, no two open areas are alike in size, purpose or design. A plush and variable solution for dressing these areas is modular outdoor seating. This style allows for configuring pieces to accommodate terrace seating to pool-side party pods. As the popularity of modular collections grows, designs like the Nexus Modular from Texacraft with its low-back contemporary design offers mixing capabilities that are especially on trend. Creative seating built to accommodate whatever the outdoor space is found in modular designs.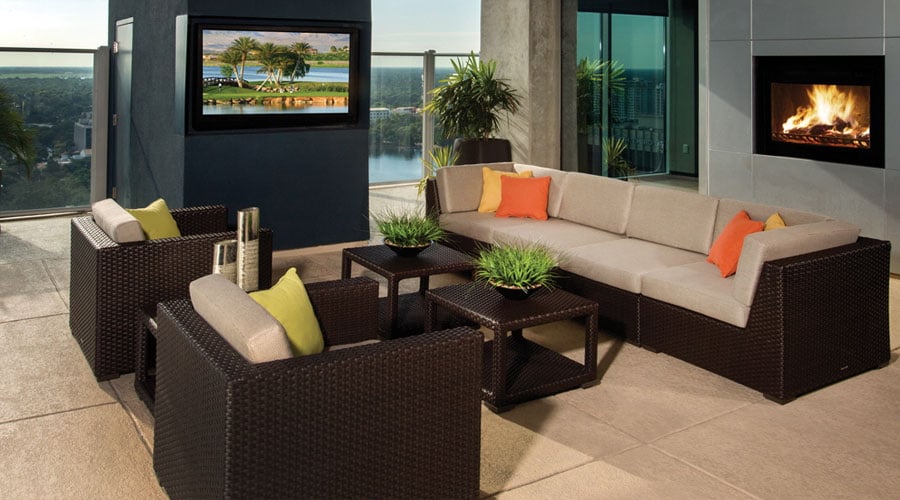 TREND #2 Blended Style
Across nature, there is a mixing of elements, wood, and minerals, soil and sun. In commercial outdoor furnishings mixing occurs just as beautifully with aluminum, all weather resin wicker to create signature outdoor looks like that of the Alon from Texacraft. Designed by John Caldwell, this blended design features pure style with a transitional, rustic design, an aluminum frame and a textural weave. With mixed looks, these furniture designs easily coordinate with blended surroundings through the community.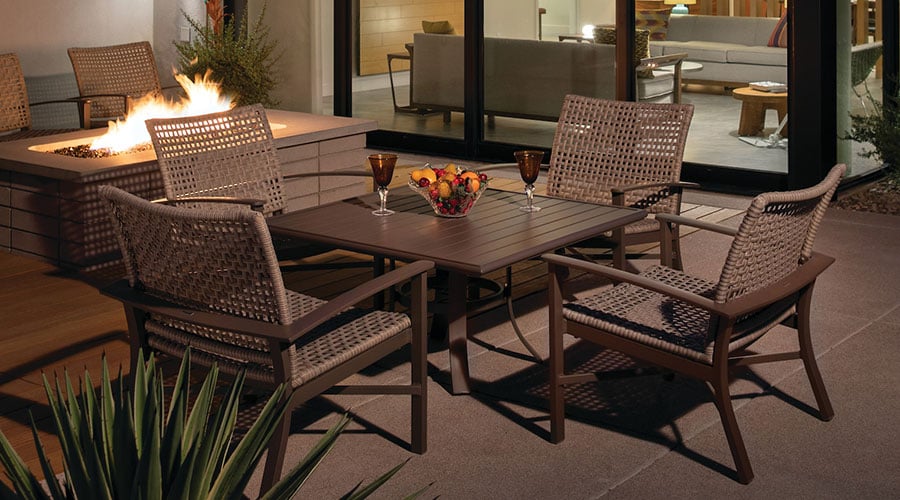 TREND #3 Ergonomics
When true relaxation is the end game for residents or their guests, offering a properly engineered seating option just feels right. Within the trend of ergonomics, one example is Texacraft's Lagoon Collection with its contemporary curved profile. Support and relaxed comfort are coupled with a durable construction. Whether poolside or in dining pods, proper ergonomics can also incorporate outdoor lounging and cushioned seating styles.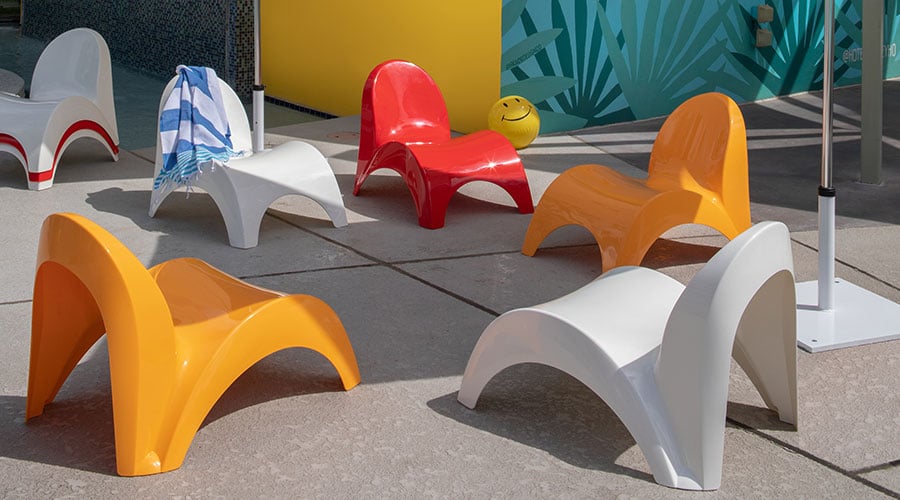 TREND #4 Game On
Gathering and getting to know your neighbors is always trending in multi-family facilities. With durable outdoor game furnishings like popular cornhole or ping pong, the gathering can come with a competitive edge. Durable selections are available from Texacraft constructed of long lasting extruded high-density polyethylene that is UV stable and moisture and mildew resistant. Each unit is designed with a modern style and ready to be the centerpiece of any outdoor game area.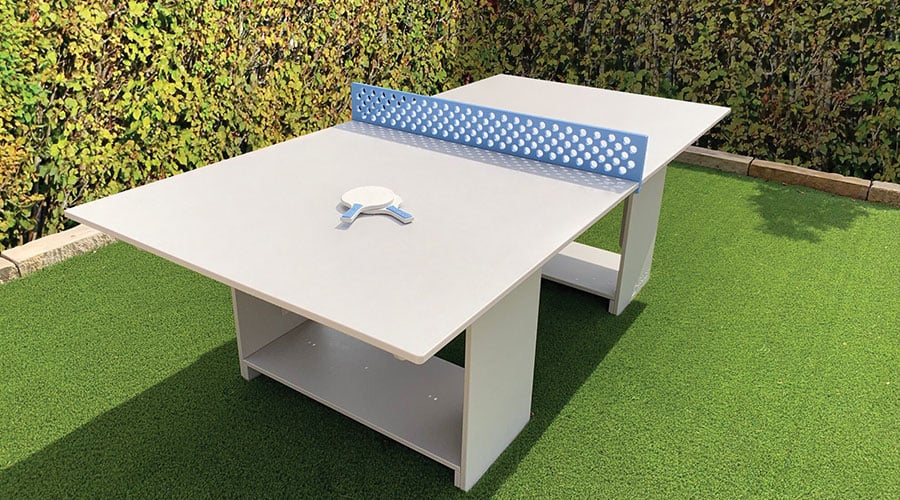 TREND #5: Niche Niceties
In select multi-family communities, amenities like dog parks or pet exercise areas are gaining popularity. For niche additions like these, outdoor furnishings are being specifically designed to accommodate conversation and relaxation while four-legged friends play. Texacraft's Bark Park outdoor benches and waste receptacles are available in a transitional style with each piece constructed of durable steel and aluminum that will keep the furniture long lasting.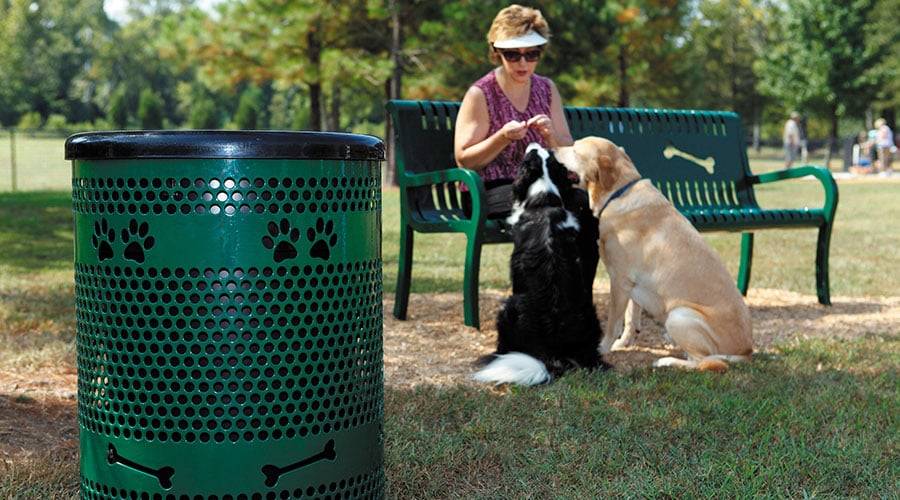 TREND #6 Exterior Shade
For protection from the sun or inclement weather, the addition of shade structures is always on trend. Whether defining dining areas with large cantilever styles or adding personal pool-side shade, umbrellas are welcome additions to any common areas; especially where trees are in scarce supply. Whatever the space planning, there are shade solutions and installation aids to fit growing outdoor spaces.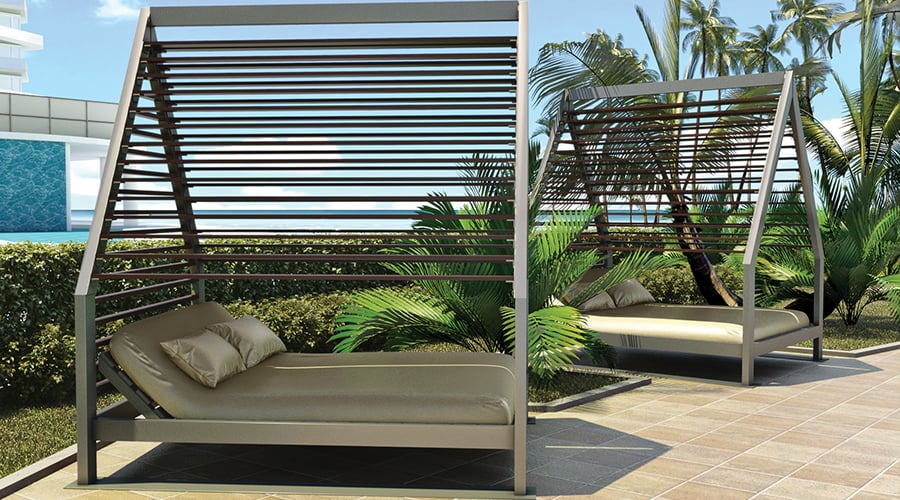 TREND #7 Colorful Vibe
Whatever the outdoor lifestyle, color is sure to add a festive vibe. Always trending, color is a welcome addition especially for often basic-hued commercial spaces. With casual furnishing designs like the Zuma, Texacraft not only offers a major color splash, but contemporary styling that puts the fun in functional. All pieces in this collection either stack or nest while ottomans store neatly underneath lounge chairs. Trending color ultimately can be a design factor that does not have to be missing when dressing multi-family outdoor living areas.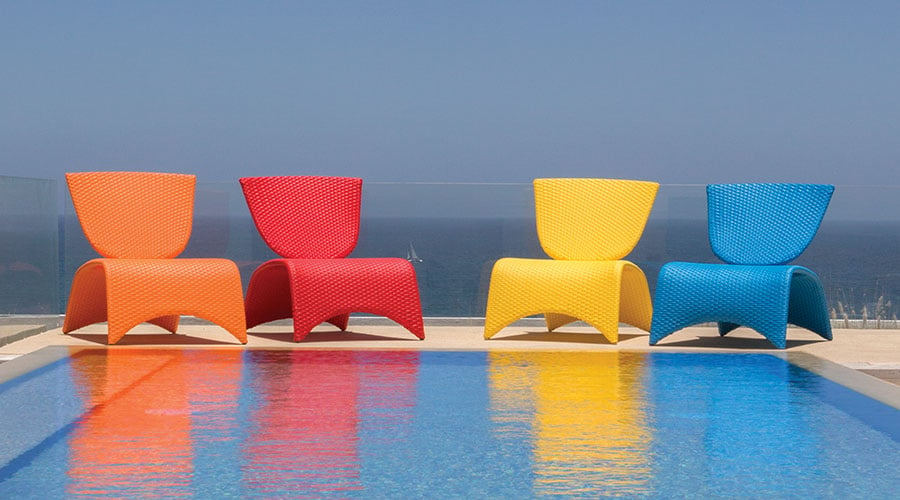 Modular mixing to colorful vibes... what's trending is defining outdoor lifestyles for multi-family residences everywhere for 2020.